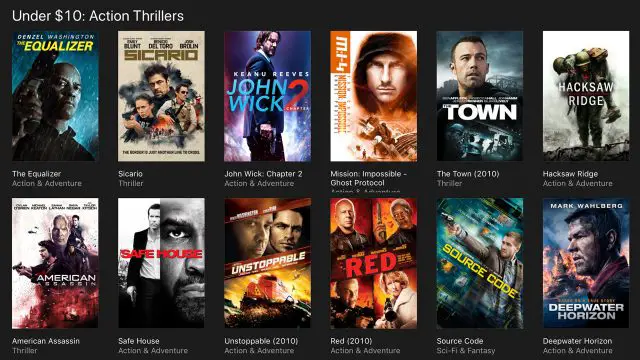 Looking for some good movies to download, below is a chart of today's top 5 best selling and most popular movies on iTunes to rent or buy and watch on your iPad, iPhone, Apple TV, or computer and online digital download. The list of the current top-selling iTunes movies 2018 available to buy or rent, including the latest new movies on iTunes.
Crazy Rich Asians
Release Date: August 15, 2018
iTunes Rental Price: $5.99
iTunes Purchase Price: $19.99
"Crazy Rich Asians" follows native New Yorker Rachel Chu (Constance Wu) as she accompanies her longtime boyfriend, Nick Young (Henry Golding), to his best friend's wedding in Singapore. Excited about visiting Asia for the first time but nervous about meeting Nick's family, Rachel is unprepared to learn that Nick has neglected to mention a few key details about his life. It turns out that he is not only the scion of one of the country's wealthiest families but also one of its most sought-after bachelors.
The House With a Clock In Its Walls
Release Date: September 21, 2018
iTunes Rental Price:
iTunes Purchase Price: $14.99
In the tradition of Amblin classics where fantastical events occur in the most unexpected places, Jack Black and two-time Academy Award® winner Cate Blanchett star in The House with a Clock in Its Walls. The magical adventure tells the spine-tingling tale of 10-year-old Lewis (Owen Vaccaro), who goes to live with his uncle in a creaky old house with a mysterious tick-tocking heart. But his new town's sleepy façade jolts to life with a secret world of warlocks and witches.
Mission: Impossible - Fallout
Release Date: July 27, 2018
iTunes Rental Price:
iTunes Purchase Price: $19.99
On a dangerous assignment to recover stolen plutonium, Ethan Hunt (Tom Cruise) chooses to save his team over completing the mission, allowing nuclear weapons to fall into the hands of a deadly network of highly-skilled operatives intent on destroying civilization. Now, with the world at risk, Ethan and his IMF team (Simon Pegg, Ving Rhames, Rebecca Ferguson) are forced to become reluctant partners with a hard-hitting CIA agent (Henry Cavill) as they race against time to stop the nuclear fallout.
The Meg
Release Date: August 10, 2018
iTunes Rental Price: $5.99
iTunes Purchase Price: $12.99
A deep-sea submersible filled with an international research crew lies disabled at the bottom of the Pacific after having been attacked by a massive shark previously thought to be extinct. With time running out, expert deep sea rescue diver Jonas Taylor (Jason Statham) is recruited by a visionary Chinese oceanographer (Winston Chao) to save the crew—and the ocean itself—from this unstoppable threat: a pre-historic 75-foot-long shark known as the Megalodon.
All of those are hot movies in autumn 2018. If you are not enough credit please buy iTunes Gift Code at USCardCode.com with email delivery and solid service. BTW if you know others please leave your comment below.